Who would have thought that Asda, motto Save money. Live better, would allow one of their distributors to store food in an environment where rodents are running riot. And flies too. Maybe they intended to save money on pest control and it cost them dearly.
Well, that was the findings by food safety inspectors after they visited a distribution centre in Enfield. They were fined £300,000 after flies and dead mice were discovered in the aisles of a home delivery depot that distributes food to online shoppers across London and Essex.
The bread section was the main location of the dead flies and mice, with mouse droppings on shelves and gnawed cereal and sugar packets in the home baking aisle when the site was inspected on 27th May last year.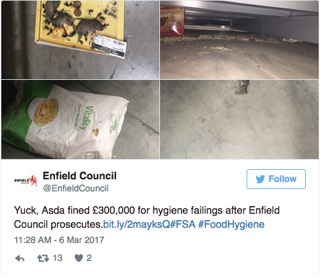 Find out more by reading about Asda's £300K fine for dead mice and flies.